Recipe pictures
You're cooking one of our recipes? Share the pictures of your culinary masterpiece on our website for a chance to win an awesome apron from Recipes Quebecoises. There will be a draw every month.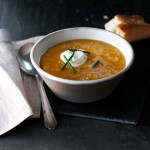 Click to enlarge
Igredients
3 tablespoons (45 ml) vegetable oil
1 medium butternut squash, peeled, seeded and cubed
1 onion, thinly sliced
2 celery stalks, cubed
3 garlic cloves, thinly sliced
3 tablespoons (45 ml) chopped fresh ginger
1/2 cup (125 ml) pure maple syrup
4 cups (1 L) chicken stock or vegetable stock
2 cups (500 ml) frozen corn
Salt and pepper to taste
1/2 cup (125 ml) sour cream
Minced chives, optional
Preparation
In a large saucepan over high heat, heat oil. Add squash, onion, celery, garlic, ginger and pure maple syrup; cook and stir for about 6 minutes. Add chicken broth. Bring to a boil, reduce heat to medium; simmer 5 minutes.
Remove mixture to a blender; purée until creamy, adding broth or water to reach desired consistency. Return puree to pot. Add corn, salt and pepper; stir and cook over medium heat 5 more minutes.
To serve, ladle soup into bowls; garnish with dollop of sour cream and chives, if desired.
Cook commentary
Serving: 4

* Need to defrost? Keep warm against the bitter cold with this savory maple, corn and butternut squash soup. This dish is full of hearty vegetables and includes savory maple flavors, fresh ginger and garlic to keep your taste buds satisfied with every spoonful. If you are looking for a vegetarian option, simply use vegetable stock. For a finishing touch, top your soup with sour cream and chives. Now, you're set to enjoy a perfect meal.
Personal notes