Recipe pictures
You're cooking one of our recipes? Share the pictures of your culinary masterpiece on our website for a chance to win an awesome apron from Recipes Quebecoises. There will be a draw every month.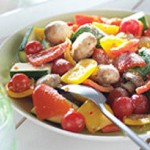 Click to enlarge
Ingrédients
1 tasse de courgettes en morceaux de 1 1/2 pouce
1 tasse de petits champignons frais
1 tasse de poivron rouge et 1 tasse de poivron jaune, en morceaux de 1 1/2 pouce
1 tasse de grosses tomates cerises
1/4 tasse de vinaigrette Italienne piquante CALORIE-WISE KRAFT
2 c. à soupe de fromage râpé 100 % Parmesan KRAFT léger en boîte
Préparation
PRÉCHAUFFER le barbecue à température mi-élevée. Arroser les légumes et les tomates de la vinaigrette et mélanger délicatement. Placer au centre d'une feuille de papier d'aluminium épais (mettre deux épaisseurs si on a seulement du papier d'aluminium régulier), d'une longueur de 18 pouces.
Relever les côtés du papier. Plier deux fois le dessus et les côtés du papier pour sceller la papillote, en laissant de l'espace pour la circulation de la chaleur à l'intérieur.
LAISSER griller de 8 à 10 min ou jusqu'à ce que les légumes soient tendres mais encore croquants, en tournant la papillote après 4 min.
FAIRE des entailles dans le papier d'aluminium pour que la vapeur s'en échappe. Ouvrir la papillote. Saupoudrer de parmesan.
Cook commentary
6 Portions
Mettez-y du piquant
Incorporez 1 c. à soupe de pesto à la vinaigrette avant d'en arroser les légumes ou garnir les légumes cuits de persil frais haché au moment de servir.
Nutrition supplémentaire
Les poivrons rouges dans ces papillotes sont une excellente source de vitamine C.
Personal notes