Recipe pictures
You're cooking one of our recipes? Share the pictures of your culinary masterpiece on our website for a chance to win an awesome apron from Recipes Quebecoises. There will be a draw every month.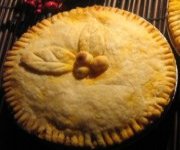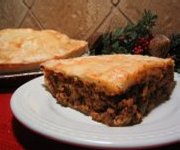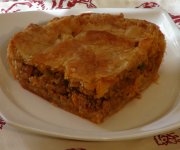 Click to enlarge
Ingredients
1 lb of ground pork
1 lb of ground veal
2 onions, chopped
½ cup of ketchup
½ cup of chopped green pepper
½ cup of chopped green relish
½ cup of chili sauce
1 teaspoon of salt
1/2 teaspoon of pepper
mozzarella cheese or grated cheddar
2 crusts
Preparation
Cook the meat and onions, until it is no longer pink. Remove the fat and put both again in the pan, add salt and pepper. Add remaining ingredients, except cheese simmer 5 minutes. Adjust seasonings as needed.
Divide in half and place in two lower crust, sprinkle cheese on top and finish with the second crust on top. Bake at 375 F until golden brown (about) 40 - 50 min.
Cook commentary
Makes 2 pies 10 inches
1. Photo: Recipes Quebecoises.com
2. photo: Lexibule
3 Photo: Joanne

I always prepare uncooked and frozen ahead. Cook (frozen) to 400F. 55 to 65 minutes, served with a green salad and a vegetable.

My little son do not like meatpies but when I offered him this recipe he ask for more!
Personal notes
All comments (1)

Cette recette est super bonne ....
Elle est à refaire certain....Merci ! Franden ...xxx
JOANNE xxx