Recipe pictures
You're cooking one of our recipes? Share the pictures of your culinary masterpiece on our website for a chance to win an awesome apron from Recipes Quebecoises. There will be a draw every month.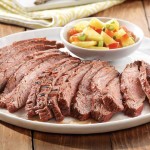 Click to enlarge
Ingredients
1 1/2 lb (750 g) flank steak
1 jar (341 mL) VH®Tandoori Sauce
1 cup (250 mL) canned pineapple chunks, drained (reserve juice)
2 tbsp (30 mL) VH® Pineapple Sauce
1/2 cup (125 mL) finely diced red pepper
2 tbsp (30 mL) finely sliced green onions
3 tbsp (45 mL) plus 1 tsp (5 mL) fresh lime juice
PAM® Grilling Spray
Preparation
Marinate flank steak in 3/4 cup (180 mL) of VH®Tandoori Sauce, 2 tbsp (30 mL) pineapple juice, 3 tbsp (45 mL) fresh lime juice for 6 hrs.
Stir together pineapple chunks, VH® Pineapple Sauce, red pepper, green onions and remaining lime juice, set aside.
Wipe excess marinade from beef and discard. Spray grill with PAM® Grilling Spray and heat to medium-high. Sear meat on both sides, then move meat to a cooler spot on the grill to finish cooking with indirect heat. While cooking, baste steak with 1/2 cup of VH®Tandoori sauce.
Cook to desired doneness, about 20 minutes for medium. Remove from heat, cover with foil and let rest for 5 minutes. Slice thinly and serve with remaining sauce and salsa.
Cook commentary
Marinate time: 6 hrs 0 min.
Prep Time: 5 min.
Cook Time: 12 min.
Serves: 4

*Tip:
Flank steak is best cooked to medium-rare or medium to retain its tenderness. Allow the meat to marinate over-night in your fridge.

*Nutrition Facts Per serving 339 g
Amount % Daily Value
Calories 440
Fat 15 g 23%
Saturated 6 g
Trans 0 mg
Cholesterol 70 mg 0%
Sodium 530 mg 22%
Carbohydrate 36 g 12%
Fiber 3 g 12%
Sugars 26 g
Protein 39 g
Personal notes