Recipe pictures
You're cooking one of our recipes? Share the pictures of your culinary masterpiece on our website for a chance to win an awesome apron from Recipes Quebecoises. There will be a draw every month.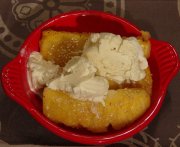 Click to enlarge
Ingredients
1 pineapple
15 ml (1 tbsp) of nutmeg
15 ml (1 tbsp) of cinnamon
118 ml (½ cup) of maple syrup
59 ml (¼ cup) of Grand Marnier or orange flower water
59 ml (¼ cup) of rum
To taste sesame seeds
To taste vanilla ice cream
Preparation
Preheat oven to 400°F (200°C). Slice pineapple into six sections and remove heart. In a large salad bowl, mix together pineapple sections with nutmeg, cinnamon, maple syrup, Grand Marnier and rum. Letrest about 10 minutes at room temperature.
Cover a baking sheet with parchment paper and put pineapple sections on parchment paper. Bake in oven for 15 minutes. Serve warm with vanilla ice cream. Sprinkle with sesame seeds to taste.
Cook commentary
Servings: 6
Preparation time: 15 min
Cooking time: 15 min
total: 30 min

* Video Recipes Québécoises
* Photo Recipes Québécoises
Personal notes
All comments (5)

Ce petit dessert vite fait est délicieux et rafraichissant servi avec de la crème glacée. Très bon à refaire.

J'ai fait cette recette et elle est simplement sublime. J'ai servi sur une crème glacée à la vanille. Je recommande fortement cette recette.

Simplement divin...J'ai servis les ananas sur de la crème glacée à la vanille. J'ai mariné les ananas 1 heure de plus que prescrit sur la recette..c'est à faire et à refaire.

Miam miammmmm....
Cette recette d'ananas semble bien délieuse....
Si je l'essais je reviens avec mon verdict....
Merci a Franden ...
Joanne xxx

Miam miammmmm....
Cette recette d'ananas semble bien délieuse....
Si je l'essais je revient avec mon verdict....
Joanne xxx