Recipe pictures
You're cooking one of our recipes? Share the pictures of your culinary masterpiece on our website for a chance to win an awesome apron from Recipes Quebecoises. There will be a draw every month.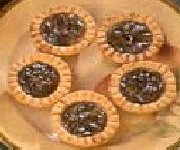 Ingredients
1 CRISCO® No Fail Pastry for Double-Crust (see recipe)
Filling
½ cup packed brown sugar 125 mL
½ cup corn syrup 125 mL
¼ cup CRISCO® Golden Shortening 50 mL
1 egg, slightly beaten 1
1 tsp vanilla 5 mL
¼ tsp salt 1 mL
¾ cup raisins 175 mL
Shells
Prepare CRISCO® No Fail Pastry for Double-Crust as directed.
Roll out thinly on lightly floured surface. Cut into rounds with 4" (10 cm) cutter. Fit into 12 medium-sized muffin cups.
Filling
Preheat oven to 425°F (220°C).
Combine all ingredients except raisins; mix well. Put raisins into pastry shells, dividing evenly. Fill 2/3 full with syrup mixture.
Bake on bottom shelf at 425°F (220°C) for 12-15 minutes or just until set. DO NOT OVERBAKE. Cool completely before removing from pan.
Cook commentary
Makes: 12 butter tarts
Preparation Time: 25 minutes
Cooking Time: 15 minutes
Variation: Try pecans instead of raisins.
Personal notes