Recipe pictures
You're cooking one of our recipes? Share the pictures of your culinary masterpiece on our website for a chance to win an awesome apron from Recipes Quebecoises. There will be a draw every month.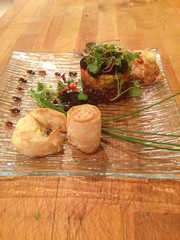 Click to enlarge
ingredients
300 g quinoa
1 clove (s) garlic
1 sweet onion
30 g of butter
150 ml of cream
1 c. tablespoons mascarpone
700 ml of vegetable broth
150 ml dry red wine
3 stalk (s) thyme
2 stalk (s) rosemary
80 g of fresh parmesan
1 filet of olive oil
pepper
Ratatouille with Black Olives
8-10 plum tomatoes, cut into small dice
1 sufficient amount of olive oil
1/2 red onion, diced
1 small eggplant, diced
2 zucchini, diced
125 ml (1/2 cup) pitted black olives
2 cloves garlic, minced
125 ml(1/2 tsp.) Provences herbs
salt and pepper to taste
Preparation
Wash and drain the quinoa in cold water. Peel and chop the garlic and sweet onion. Chop the thyme and rosemary finely enough.
In a pan, pour a little olive oil, add onion and minced garlic, then add the spices.
Allow to brown, then pour over the quinoa. Gently mix everything with a wooden spoon. Let brown quinoa 3 min by mixing well.
Then add the red wine on the quinoa and mix without stopping until complete evaporation of the liquid.
When red wine is absorbed, pour the vegetables broth ladle by ladle, to be absorbed gradually. Quinoa should cook for 20 minutes and should be neither too soft nor too hard.
Add the cream, mascarpone and parmesan, stir gently, adjust the seasoning.
preparation
Cut into quarters plum tomatoes, remove seeds.
In a skillet, heat a small amount of olive oil over medium heat. Cook the tomatoes.
Book in the sieve and season with salt and pepper.
In skillet, heat a small amount of oil over medium-high heat.
Cook the onions until transparent and book with tomatoes in strainer.
Do so for the eggplant, zucchini and peppers. Salt and pepper lightly after each cooking.
Fry black olives and garlic and stir for 30 seconds reserved vegetables.
Drain vegetables and seasoning.
In a saucepan, put the vegetables, add the herbs and heat over medium-high heat Place immediately into a pastry cutter on the quinoa risotto.
Cook commentary
Portions: 4
For side dish, i suggest you Crisp Cheese Dumplings
Here's the link:
http://recipesquebecoises.com/quebecoises/detailen.asp?receipe=21777
Personal notes