Recipe pictures
You're cooking one of our recipes? Share the pictures of your culinary masterpiece on our website for a chance to win an awesome apron from Recipes Quebecoises. There will be a draw every month.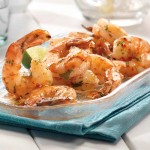 Click to enlarge
Ingredients
1 lb (500 g) medium, raw shrimp, peeled
1/3 cup (80 mL) VH® Spicy Thai Chili Sauce
1 tbsp (15 mL) fresh lime juice
2 tbsp (30 mL) finely chopped fresh cilantro
PAM® Grilling Spray
Preparation
Heat grill to medium-high. Add shrimp to grill basket; spray basket with PAM® Grilling Spray . Grill shrimp, shaking basket occassionally to redistribute shrimp, until shrimp are cooked through and bright pink, about 7 minutes, until cooked through and pink.
While shrimp are cooking, stir together VH® Spicy Thai Chili Sauce, lime juice and fresh cilantro in medium glass or metal bowl. Once cooked, add shrimp to sauce and toss to coat and serve.
Cook commentary
Prep Time: 2 min.
Cook Time: 7 min.
Serves: 4

*Tip:
If not using a grill basket, avoid shrimp falling through the grill by placing shrimp in a piece of foil sprayed with PAM® Grilling Spray.

*Nutrition Facts Per serving 0 g
Amount % Daily Value
Calories 170
Fat 2 g 3%
Saturated 0.4 g
Trans 0 mg
Cholesterol 190 mg 0%
Sodium 250 mg 10%
Carbohydrate 10 g 3%
Fiber 0 g 0%
Sugars 6 g
Protein 25 g
Personal notes