Recipe pictures
You're cooking one of our recipes? Share the pictures of your culinary masterpiece on our website for a chance to win an awesome apron from Recipes Quebecoises. There will be a draw every month.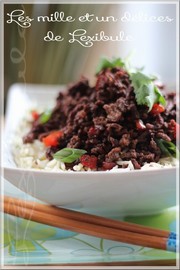 Click to enlarge
Ingredients
2 tablespoons of sesame oil (not toasted)
1 lb (454 g) of lean ground beef
1 tablespoon of chopped ginger
1/4 cup, (around 4 tablespoons) of brown sugar
1/4 cup, (around 4 tablespoons) of sodium reduced soy sauce
* Provide also 2 cloves of garlic chopped
* Provide also: 3 green onions minced
* Optional: 1 Thaï pepper chopped (me I take the little one)
Preparation
In a skillet, heat the sesame oil over medium heat. Cook ground beef 4 to 5 minutes, until it is no longer pink.
Add the ginger, garlic and if desired, Thai chili. Cook 1 minute.
Add brown sugar, soy sauce and pepper. cook 2 to 3 minutes, stirring.
To serve, sprinkle each serving with green onions.
Cook commentary
Makes: 4 servings
Preparation: 15 minutes
Cooking: 7 minutes

*Idea for accompaniment!
Basmati rice lime and coriander.
1)Rinse 1 cup (237 mL) of basmati rice in cold water.
2)Place in a saucepan with 2 cups (473 ml) of cold water, add 1 tablespoon, (15 mL) of lime zest and 1 chopped onion. Salt and pepper.
3) Bring to a boil over medium heat. Cover and cook 18 to 20 minutes over low-medium heat. At serving time, add 3 tbsp. (45 mL) of minced coriander.
*Note: For a little more flavor, put some garlic and green onions.

*Also: Optional but delicious and pretty to look at, add Thai pepper chopped (Me,1 small red pepper chopped).
Personal notes