Recipe pictures
You're cooking one of our recipes? Share the pictures of your culinary masterpiece on our website for a chance to win an awesome apron from Recipes Quebecoises. There will be a draw every month.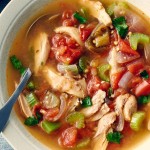 Click to enlarge
Ingredients
2 lbs (1 kg) of chicken pieces such as 5 chicken legs with thighs attached
8 cups (2 L) of chicken broth
2 large white or red onions, coarsely chopped
8 cloves of garlic, finely chopped
1 large jalapeno,seeded and finely chopped
127 ml can of chopped green chilies
1 tbsp (15 mL) of ground cumin
2 tsp (10 mL) of chili powder
1 tsp (5 mL)of each of dried leaf oregano and ground coriander
1/2 tsp (2.5 mL) of ground cinnamon
4 cups (1 L) chopped ripe tomatoes including seeds and juice
1 large green pepper
2 stalks of celery
1 lime
1 cup (250 mL) of coarsely chopped cilantro
sour cream and dried chili flakes (optional)
Preparation
Pull skin from chicken and remove fat. Pour broth into a large sauce pan that will hold about 18 cups (4.5 L) and set over medium heat. Prepare onion, garlic and jalapeno and add to broth as soon as they are chopped. Stir in entire contents of the can of green chilies and seasonings. Then submerge chicken in soup, bone-side up. Cover and simmer 30 minutes.
Meanwhile prepare tomatoes. Coarsely chop green pepper and slice celery. When chicken has cooked 30 minutes, remove to a bowl. Stir tomatoes, green pepper, celery and juice of half a lime into the soup. Cover and simmer 20 minutes.
Meanwhile, strip chicken from the bone and either pull apart, shred or cut into little pieces. Prepare cilantro. After the soup's final 20 minutes of cooking, stir in chicken and add cilantro. Taste and add salt and more lime juice if needed. Serve soup and pass sour cream for spooning over top and slices of lime for squeezing in more juice if you like.
Cook commentary
Serves: 18
Prep Time: 25 mins
Cook Time: 60 mins
Personal notes