Recipe pictures
You're cooking one of our recipes? Share the pictures of your culinary masterpiece on our website for a chance to win an awesome apron from Recipes Quebecoises. There will be a draw every month.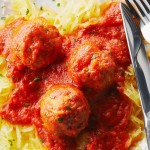 Click to enlarge
Ingredients
2 tbsp (30 mL) extra virgin olive oil
1 spaghetti squash, medium, halved and cored
3 cups (750 mL) tomato sauce
1 lb (0.5 kg) ground chicken
1 egg yolk
1/2 cup (125 mL) breadcrumbs
1 tsp (5 mL) lemon zest
2 tbsp (30 mL) parsley, fresh, finely-chopped
1 tbsp (15 mL) oregano, dried
1 tsp (5 mL) basil, dried
1 pinch hot red chili pepper flakes
Parmesan cheese, for garnish
salt, to taste
pepper, to taste
parsley, fresh, finely-chopped (for garnish)
Preparation
Preheat the oven to 350°F (175°C). Place the spaghetti squash on the baking sheet, cut side down and roast until tender, about 45 minutes.
Place the tomato sauce on the stove to simmer.
In a mixing bowl combine the chicken, egg yolk, breadcrumbs, lemon zest, parsley, oregano, basil, chili flakes and salt and pepper. Use your hands to blend the ingredients and shape into 2-inch (5 cm) meatballs.
Heat olive oil in a non-stick skillet over medium-high heat. Add the meatballs and sear on both sides, about 8 minutes. Transfer them into the simmering tomato sauce, cover, and simmer until fully cooked, about 15 minutes.
Using a fork, scrape out the spaghetti squash and divide between dishes. Top with meatballs and sauce. Garnish with Parmesan cheese and freshly-chopped parsley.
Cook commentary
Serves:4
Prep Time:20 mins
Cook Time:45 mins

*Nutrition Info
Chicken Meatballs on Spaghetti Squash
Amount
Calories 354
Protein 33 g
Fat 13 g
Saturated Fat 3 g
Carbohydrate 27 g
Fibre 5 g
Sugar 14 g
Cholesterol 124 mg
Sodium 454 mg
% Daily Value
Potassium 24
Calcium 13
Iron 20
Vitamin A 22
Vitamin C 21
Vitamin B6 10
Vitamin B12 3
Folate 7
Magnesium 6
Zinc 5
Personal notes