Recipe pictures
You're cooking one of our recipes? Share the pictures of your culinary masterpiece on our website for a chance to win an awesome apron from Recipes Quebecoises. There will be a draw every month.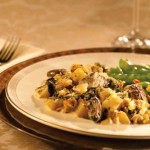 Click to enlarge
Ingredients
3 tbsp (45 mL) melted butter, divided
1 large sweet onion, thinly sliced
2 cloves garlic, minced
1 tsp (5 mL) dried thyme leaves
1 tsp (5 mL) each salt and pepper
1 tsp (5 mL) granulated sugar
1 1/2 lb (750 g) baking potatoes, peeled and cut into 1/2-inch (1 cm) cubes, about 4 cups (1 L)
1/4 cup (50 mL) chicken broth
1/2 tsp (2 mL) Worcestershire sauce
1 cup (250 mL) 5% light cream or half and half
1/4 tsp (1 mL) ground nutmeg
2 cans (85 g each) CLOVER LEAF SMOKED OYSTERS
2 cups (500 mL) packed baby spinach leaves or chopped Swiss chard
1/2 cup (125 mL) each fresh bread crumbs and shredded Parmesan cheese
2 tbsp (30 mL) chopped fresh parsley
Preparation
Heat 2 tbsp (30 mL) of the butter in a large, oven-safe skillet set over medium heat.Add the onion, garlic, thyme, salt and pepper. Partially cover and cook, stirring occasionally, for 10 to 15 minutes or until golden. Sprinkle sugar into the pan. Increase heat to medium-high. Stir in the potatoes, chicken broth and Worcestershire sauce; cook until liquid evaporates, about 1 minute.
Preheat the oven to 375 F (190 C) .
Stir in the cream and nutmeg and bring to a boil. Drain the oysters and reserve 1 tbsp (15 mL) of the juices. Stir the smoked oysters, reserved juices and spinach into the potato mixture.Toss the breadcrumbs, Parmesan cheese, parsley and remaining butter until well combined. Sprinkle evenly over top. Bake for 30 to 40 minutes.
Cook commentary
Serves 4
Prep time 10 min
Cook Time 1 hour
Time to Table 1 hour 10 min
Tip: If you don't own an ovenproof skillet, transfer the potato-oyster mixture to a shallow gratin dish before adding crumb topping.
Personal notes