Recipe pictures
You're cooking one of our recipes? Share the pictures of your culinary masterpiece on our website for a chance to win an awesome apron from Recipes Quebecoises. There will be a draw every month.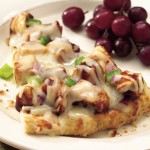 Click to enlarge
Ingrédients
1 emb. (283 g) de croûte à pizza italienne Pillsbury*
1/4 t. (50 mL) de sauce barbecue
3/4 t. (175 mL) de poulet cuit haché
1 c. à soupe (15 mL) d'oignon rouge haché
1 t. (250 mL) de mozzarella râpée
6 tomates raisins, tranchées finement
Préparation
Allumer le barbecue au charbon de bois ou au gaz pour une cuisson indirecte à feu moyen-élevé. Si un barbecue au charbon de bois est utilisé, disposer les charbons autour du périmètre du gril.
Vaporiser d'enduit culinaire une plaque à pizza de 12 po (30 cm). Dérouler la pâte et la mettre sur la plaque à pizza. En commençant par le centre, presser la pâte vers l'extérieur en formant un rebord de 1/2 po (1 cm). Griller la base de la pizza au centre du barbecue au charbon de bois ou du côté non chauffé du barbecue au gaz. Couvrir et faire griller de 10 à 12 minutes ou jusqu'à ce que la croûte soit ferme. À l'occasion, tourner la pizza.
Retirer la pizza du gril. Étaler la sauce barbecue. Garnir du poulet, de l'oignon, du fromage et des tomates.
Remettre sur le gril ; faire griller du côté non chauffé du gril de 8 à 12 minutes. À l'occasion, tourner la pizza. Pour une croûte dorée croustillante, placer la plaque à pizza directement sur la source de chaleur pendant au moins 30 secondes. Soulever délicatement la pizza pour vérifier si la croûte est bien croustillante et dorée. Diviser en pointes.
Cook commentary
Temps de préparation: 10 min
Temps total: 28 min
Portions: 4
* Truc : Comme variante, essayez différentes sauces, par exemple sauce à pizza, sauce aux tomates ou Alfredo, ou toute variété de sauce barbecue.
Personal notes