Recipe pictures
You're cooking one of our recipes? Share the pictures of your culinary masterpiece on our website for a chance to win an awesome apron from Recipes Quebecoises. There will be a draw every month.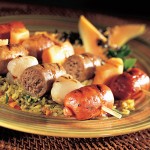 Click to enlarge
Ingredients
8 sausages, varied flavours
1 papaya, cubed
1 tin lychees, drained
Warm honey sauce
2 Tbsp. (30 mL) liquid honey*
1/4 cup (60 mL) sugar
1 tsp. (5 mL) Meaux mustard*
2 garlic cloves, chopped
1/4 cup (60 mL) white wine vinegar
1/2 (125 mL) olive oil*
preparation
Preheat barbecue at medium.
Blanch sausages in boiling water 2 to 3 minutes. Drain and cut into three pieces. Thread the pieces onto brochettes, alternating meat with papaya and lychees. Set aside.
Brush brochettes with sauce and grill them 6 to 10 minutes on an oiled barbecue grill. Turn them over frequently and brush with sauce while cooking
Warm honey sauce
Put all sauce ingredients in a saucepan. Bring to a boil. Let simmer 1 to 2 minutes and set aside in a warm place.
Cook commentary
4 Servings
Personal notes