Recipe pictures
You're cooking one of our recipes? Share the pictures of your culinary masterpiece on our website for a chance to win an awesome apron from Recipes Quebecoises. There will be a draw every month.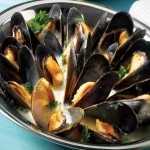 Click to enlarge
Ingredients
2 kg (4 lb.) fresh mussels
30 mL (2 tbsp.) melted butter
30 mL (2 tbsp.) flour
250 mL (1 cup) white wine
250 mL (1 cup) chicken broth
3 garlic cloves, finely chopped
60 mL (1/4 cup) 35?% M.F. cream
160 mL (2/3 cup) freshly grated Parmesan cheese
Chopped parsley for garnish
Freshly ground black pepper, to taste
Preparation
Preheat barbecue to medium-high heat. Gently scrub mussels with a brush in cold water and remove beards (small threads). Combine butter, flour, white wine, chicken broth, garlic, cream and Parmesan in blender until smooth and well blended. Reserve.
Stack two large sheets of aluminum foil, one on top of the other, on work surface. Place one-quarter of the mussels in the middle. Cover with two more sheets of aluminum foil and tightly fold over three sides to form a pouch. Pour one-quarter of the sauce into the pouch. Fold over remaining side tightly. Repeat operation three more times to make four pouches in all.
Place pouches on barbecue rack, and cook for 10 to 12 minutes, or until mussels open (discard any that stay shut). Turn over and shake pouches several times during cooking. Serve mussels and sauce in four large bowls. Garnish with fresh parsley and freshly ground pepper. Accompany with olive or rosemary bread and a green salad.
Cook commentary
Serves: 4
Variation: For rosé sauce, add 60 mL (1/4 cup) tomato sauce to the mixture and garnish with fresh basil.
Personal notes