Recipe pictures
You're cooking one of our recipes? Share the pictures of your culinary masterpiece on our website for a chance to win an awesome apron from Recipes Quebecoises. There will be a draw every month.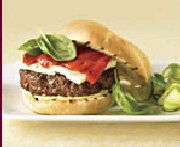 Click to enlarge
ingredient
454 g (1 lb) ground lamb
45 ml (3 Tbsp.) dried tomato pesto
60 ml (1/4 cup) flat chopped parsley
7.5 ml (1 ½ tsp.) fresh chopped rosemary
1 clove of garlic, finely chopped
15 ml (1 Tbsp.) Dijon mustard*
30 ml (2 Tbsp.) mayonnaise*
60 ml (1/4 cup) sour cream
2 roasted red peppers (store-bought)
4 slices of feta cheese around 30 g (1 oz.) each
Butter*
4 kaiser buns
500 ml (2 cups) baby spinach
Salt and ground pepper
Preparation
Blend ground lamb, pesto, parsley, rosemary and garlic. Shape into four patties and keep cool while preparing all other ingredients.
Blend mustard, mayonnaise, sour cream and put aside. Drain and rinse peppers under cold water. Cut in half and put aside. Put barbecue grill on high flame until the grill is very hot. Season lamb patties and put on grill, lower flame to medium and grill for 5 minutes.
Flip lamb patties, put cheese and peppers on top. Continue cooking for another 5 minutes.
Butter inside of buns and grill. Coat interior of buns with mayonnaise. Put lamb patties on bottom half of buns, add spinach leaves and close.
Cook commentary
4 Servings
Personal notes