Exotic Mushroom Soup
Print
Category
Mushroom
Thematic No thematic
Source Carr's®
Evaluation
☆
☆
☆
☆
☆
Recipe pictures
You're cooking one of our recipes? Share the pictures of your culinary masterpiece on our website for a chance to win an awesome apron from Recipes Quebecoises. There will be a draw every month.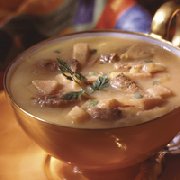 Ingredients
1 lb assorted fresh mushrooms (shiitake, portabello, crimini), sliced 500 g
1/4 cup finely chopped onion 50 mL
1 clove garlic, minced
3 tbsp butter or margarine 45 mL
4 tsp all-purpose flour 20 mL
4 cups chicken broth 1 L
1 1/2 cups whipping cream (35%) 375 mL
2 tsp chopped fresh thyme (or 1/2 tsp/2 mL dried) 10 mL
dash hot pepper sauce dash
Salt and pepper, to taste
Chopped fresh parsley (optional)
Carr's® Table Water® Crackers
Preparation
Cook mushrooms, onion and garlic in butter, in large saucepan or Dutch oven, until vegetables are lightly browned. Stir in flour.
Stir in broth. Cook and stir until boiling. Reduce heat. Simmer, covered, for 15 minutes, stirring occasionally.
Process mushroom mixture in blender, half at a time, until smooth; return to saucepan. Stir in cream, thyme and hot pepper sauce. Cook and stir until heated through. Season with salt and pepper. Pour into bowls and sprinkle with parsley. Serve with Carr's crackers.
Cook commentary
Makes: 6 servings.
Per Serving: 280 Cal; 4.6 g Pro; 26.7 g Fat; 7.1 g Carb; 1.3 g DFib
Serve this thick creamy soup as a starter to a special meal, with crisp Carr's Table Water Crackers.
Personal notes