Recipe pictures
You're cooking one of our recipes? Share the pictures of your culinary masterpiece on our website for a chance to win an awesome apron from Recipes Quebecoises. There will be a draw every month.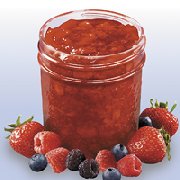 Ingredients
1 lb Firm, ripe, pitted, cleaned and washed, unsweetened fruit 400g
2 250 mL washed, rinsed and dried jam jars with sealing lids
Preparation
MAKE ONLY 1 BATCH AT A TIME. Stir in package contents with prepared fruit in a large bowl.
Microwave on HIGH for 3 minutes. Stir well. Microwave on HIGH for 2 more minutes. Stir well.
Fill the jars completely to the top edge, cover with lids. CAUTION: THE JARS WILL BE HOT.
Place the jars upside down for 5 minutes, then flip over and allow to cool. No additional sterilization required. Store unopened jars in a cool, dark place. Refrigerate open jars.
Cook commentary
Makes two 250 mL jars. Wait 12 hours to fully set.
Personal notes