Recipe pictures
You're cooking one of our recipes? Share the pictures of your culinary masterpiece on our website for a chance to win an awesome apron from Recipes Quebecoises. There will be a draw every month.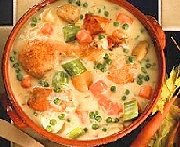 Ingredients
2 tbsp (30 mL) butter
31/2 lbs (1.75 kg) chicken pieces
3 cups (750 mL) water
1 cup (250 mL) finely chopped onion
2 tbsp (30 mL) chicken broth mix
2 tsp (10 mL) poultry seasoning
8 small carrots, cut in 1 inch (2.5 cm) pieces
6 small potatoes, quartered
3 stalks celery, cut in 1 inch (2.5 cm) pieces
1 1/2 cups (375 mL) frozen peas
1 3/4 cups (425 mL) milk
1/4 cup (50 mL) all-purpose flour
Salt and pepper
Preparation
In large saucepan, melt butter. Sauté chicken until golden brown on both sides; drain. Stir in water, onion, chicken broth mix and poultry seasoning. Bring to a boil over medium-high heat. Reduce heat, cover and simmer 15 minutes.
Add carrots, potatoes and celery. Simmer, covered, 20 minutes longer or until chicken and vegetables are cooked. Add peas and cook 3 to 5 minutes longer. Gradually stir milk into flour until smoothly combined. Add to pan. Cook and stir over medium heat until mixture boils and thickens. Season with salt and pepper to taste.
Cook commentary
6 servings
Tips: It's important to cook chicken thoroughly. To test pieces with bones, insert a fork into the chicken. If the meat is tender and juices run clear, the chicken is done. For boneless chicken, check that the meat is no longer pink in the centre
Personal notes