Recipe pictures
You're cooking one of our recipes? Share the pictures of your culinary masterpiece on our website for a chance to win an awesome apron from Recipes Quebecoises. There will be a draw every month.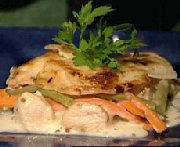 Cheese Sauce
1/4 cup (60 mL) butter
3 tbsp (45 mL) shallots
2 cloves garlic, minced
1/4 cup (60 mL) flour
1/2 cup (125 mL) milk or whipping cream ((35 %)
2 cups (500 mL) chicken broth
2 cups (500 mL) sharp Canadian Cheddar cheese, grated
2 tbsp (30 mL) chives, minced
Salt and pepper, to taste
Gratin
3 cups (750 mL) cooked chicken, diced*
1/2 lb (250 g) green beans, blanched
3 large carrots, julienned
4 potatoes, in thin slices
1/2 cup (125 mL) sharp Canadian Cheddar cheese
Cheese Sauce
Over low heat, melt butter in a large thick bottomed saucepan. Gently cook shallots and garlic for a few minutes, being careful not to brown. Using a whisk, gradually blend in milk then chicken broth.
Simmer 10 to 15 minutes. Blend in cheese and chives, stir until sauce is smooth.
Gratin
In a baking dish, place diced chicken and cover with about 1 cup (250 mL) cheese sauce, then top with carrot julienne and green beans. Cover with half the potato slices and pour half the remaining cheese sauce over them. Cover with remaining potato slices and pour over rest of sauce.
Top with grated Canadian Cheddar and bake in the centre of oven preheated to 350 °F (180 °C) 40 to 45 minutes.
Cook commentary
6 servings
Tips: * This recipe can also be made with ham, turkey, fish or mixed vegetables.
If you don't have leftover chicken, cook chicken as follows:
In a large frying pan, heat 2 tbsp (30 mL) butter and 1 tbsp (15 mL) oil. Sauté diced chicken over high heat. Add 2 tbsp (30 mL) chopped shallots and 1 small crushed garlic clove. Reduce heat, cook for a few minutes more, then set aside.
Personal notes