Recipe pictures
You're cooking one of our recipes? Share the pictures of your culinary masterpiece on our website for a chance to win an awesome apron from Recipes Quebecoises. There will be a draw every month.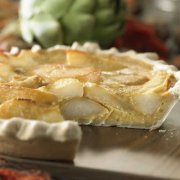 Ingredients
3 pears, peeled and quartered
30 g (2 tbsp) unsalted butter
80 g (½ cup) sugar
1 shortcrust pie shell
2 eggs
160 ml (2/3 cup) 15% cooking cream
75 g (5 tbsp) powdered almonds
20 ml (4 tsp) pear brandy (optional)
To taste custard or vanilla ice cream
Directions
Caramelize pear sections in butter with 30 g (2 tbsp) of sugar. Arrange pears in pie shell. Mix together eggs with remaining sugar, cream, powdered almonds and pear brandy, if using. Pour mixture over pears.
Bake in oven preheated to 410°F (205°C) for about 25 minutes. Let rest 3 minutes prior to serving with vanilla ice cream or drizzle with rich custard to taste.
Cook commentary
Serves: 4-6
Time: hands-on: 10 min
cooking: 25 min
total prep: 35 min
Personal notes