Recipe pictures
You're cooking one of our recipes? Share the pictures of your culinary masterpiece on our website for a chance to win an awesome apron from Recipes Quebecoises. There will be a draw every month.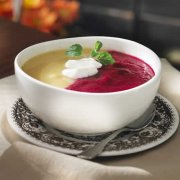 Ingredient
300 g (2 medium) red beets
300 g (2 medium) yellow beets
1 medium onion, chopped
2 cloves garlic
500 g (2 bags) chopped leeks
30 g (2 tbsp) butter, unsalted
2 L (4 cups) poultry broth
125 ml (1/2 cup) whipping cream 35% m.f.
To taste salt and pepper
2 sprigs each chives, parsley, tarragon, finely chopped
Directions
Peel beets, cut into small cubes and place in 2 separate saucepans and cook in salted water. Beet should be well cooked. Set aside separately.
Sweat onions, garlic and leek in butter for about 10 minutes. Add chicken broth and mix well. Separate mixture into 2 equal portions in two separate saucepans. Add red beets to one saucepan and yellow beets to the other. Season to taste and cook 30 minutes.
In a food processor, purée each mixture until smooth then strain separately. Set aside separately. Beat cream into Chantilly (firm texture whipped cream) and gently blend with herbs. Set aside.
Fill 2 measuring cups with each cream soup and gently pour into a soup bowl - yellow beet soup on the left and red beet soup on the right. The two cream soups will meet in the center but will not blend. Repeat the operation with remaining serving bowl and decorate with a spiral of Chantilly and herb cream prior to serving.
Cook commentary
Serves: 6
Time: hands-on: 10 min
cooking: 50 min
total prep: 60 min
Personal notes