Recipe pictures
You're cooking one of our recipes? Share the pictures of your culinary masterpiece on our website for a chance to win an awesome apron from Recipes Quebecoises. There will be a draw every month.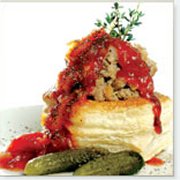 Ingredients
3 Irresistibles medium potatoes*
1 lb (454 g) minced meat, pork, beef,chicken, veal, duck
1 onion, thin slices
½ cup ( 125 mL) beef broth
To taste salt, pepper
To taste Irresistibles spices; nutmeg, rosemary, savory, cinnamon, celery seed, garlic*
6-8 pastry shells
Preparation
Peel, wash and dice potatoes. In a large bowl, mix potatoes and 1 lb (454 g) of choiced minced meat and thin slices of onions.
In a large pan, put the meat and add beef broth and season. Let simmer uncovered for 30 minutes.
Reheat the pastry shells in the oven at 350°F (180°C) for a few minutes and pour the preparation into the pastry sheel. Serve with chutney and pickles.
Cook commentary
Servings: 6-8 meat pie
Occasion: Christimas Holidays
Personal notes