Recipe pictures
You're cooking one of our recipes? Share the pictures of your culinary masterpiece on our website for a chance to win an awesome apron from Recipes Quebecoises. There will be a draw every month.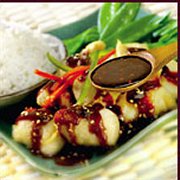 Ingredient
8 oz. (250 g) tempura batter mix
1 lb. 7 oz. (750 g) skinless, boneless chicken breasts* or thighs, cut into 1 in. (2.5 cm) cubes
4 cups (1 L) canola oil* (for frying)
2 Tbsp. (30 mL) canola oil * (for cooking)
1/2 red bell pepper, cut into very thin strips
1/2 green bell pepper, cut into very thin strips
1/2 Tbsp. (7 mL) toasted sesame seeds (optional)
1/4 cup (60 mL) white vinegar*
1/2 cup (125 mL) sugar*
1 Tbsp. (15 mL) dry sherry
1 Tbsp. (15 mL) oyster sauce
1 Tbsp. (15 mL) dark soya sauce*
1/4 cup (60 mL) water
3 dried hot peppers, crumbled or 1/4 tsp. (1 mL) hot pepper paste
4 tsp. (20 mL) tapioca flour or cornstarch*, dissolved in 1/4 cup (60 mL) water
Preparatiion
Tempura Dissolve the tempura mix with water until it has the texture of a thin pancake batter. Coat each piece of chicken with the batter. Deep fry in the oil over high heat for 7 minutes or until the batter is golden. Set aside and keep warm in a 250°F (120°C) oven.
Sauce In a saucepan over medium-low heat, mix the white vinegar, sugar, dry sherry, oyster sauce, soya sauce, water and hot peppers or paste. Add the dissolved flour or starch and mix into the sauce well.
Sautéed vegetables In a wok, heat the canola oil over high heat ; sauté the peppers, then add the prepared sauce and bring to a boil. Add the chicken cubes and sauté for about 30 seconds or until they're coated with a light glaze. Scatter the toasted sesame seeds on top (optional).
Cook commentary
Servings: 4
Personal notes