Star-of-the-East Fruit Bread
Print
Category
Fruits
Thematic No thematic
Source Hershey's
Evaluation
☆
☆
☆
☆
☆
Recipe pictures
You're cooking one of our recipes? Share the pictures of your culinary masterpiece on our website for a chance to win an awesome apron from Recipes Quebecoises. There will be a draw every month.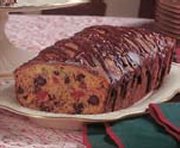 Ingredients
1/2 cup (125 mL) butter or margarine, softened
1 cup (250 mL) sugar
2 eggs
1 teaspoon (5 mL) vanilla extract
2 cups (500 mL) all purpose flour
1 teaspoon (5 mL) baking soda
1/4 teaspoon (1 mL) salt
1 cup (about 3 medium) (250 mL) mashed ripe banana
1/2 cup (125 mL) chopped maraschino cherries, well drained
1 can (11 oz.) mandarin orange segments, well drained
1/2 cup (125 mL) chopped dates OR Calimyrna figs
1 cup (250 mL) CHIPITS Semi Sweet Baking Chips
HERSHEY'S COCOA GLAZE
2 tablespoons (30 mL) butter
2 tablespoons (30 mL) light corn syrup
3 tablespoons water
3 tablespoons HERSHEY'S Cocoa
2 teaspoons (10 mL) vanilla extract
1 1/2 cups (375 mL) powdered sugar
Preparation
Heat oven to 350°F (180°C). Grease two 8x4-inch loaf baking pans.
Beat butter and sugar in large bowl until light and fluffy. Add eggs and vanilla; beat well. Stir together flour, baking soda and salt; add alternately with mashed banana to butter mixture, blending well.
Stir in cherries, orange segments, figs and CHIPITS Semi Sweet chips. Divide batter evenly between prepared pans. Bake 40 to 50 minutes or until golden brown.
Cool; remove from pans. Drizzle tops of loaves with HERSHEY'S COCOA GLAZE. Store tightly wrapped.
HERSHEY'S COCOA GLAZE
Melt butter in small saucepan over low heat; stir in corn syrup. Stir in water and HERSHEY'S Cocoa; cook, stirring constantly, until mixture is smooth and slightly thickened. Remove from heat; stir in vanilla.
Gradually stir in powdered sugar, beating to desired consistency.
Cook commentary
Bake Time: 40 -50 minutes
Yield: 2 loaves
Personal notes