Recipe pictures
You're cooking one of our recipes? Share the pictures of your culinary masterpiece on our website for a chance to win an awesome apron from Recipes Quebecoises. There will be a draw every month.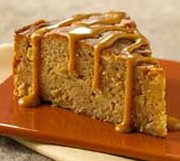 Ingredients
2/3 cup (150mL) CHIPITS® Butterscotch Chips
2 tbsp (30mL) whipping cream (35%)
3 cups (750mL) diced peeled Golden Delicious apples
3/4 cup (175mL) soft butter
1 cup (250mL) packed brown sugar
2 eggs
1 tsp (5mL) vanilla
2 1/2 cups (625mL) all-purpose flour
2 tsp (10mL) baking powder
1/2 tsp (2mL) salt
1 tsp (5mL) cinnamon
1/4 tsp (1mL) nutmeg
Topping
3/4 cup (175mL) CHIPITS® Butterscotch Chips
3 tbsp (45mL) whipping cream (35%)
Preparation
In medium bowl in microwave, or in saucepan, melt 2/3 cup (150 mL) butterscotch chips and 2 tbsp (30 mL) cream. Stir vigorously until smooth. Stir in apples to coat well.
In large bowl with electric mixer, cream together butter and sugar until light and fluffy. Beat in eggs and vanilla. In medium bowl, mix together flour, baking powder, salt and spices; mix into creamed mixture. Stir in apple mixture.
Spread in greased 9-inch (23 cm) springform or square baking pan. Bake in 350°F (180°C) oven for 50 to 60 minutes, until tested inserted in centre comes out clean. Let cool 10 minutes. Remove outer band from springform; cool to room temperature.
Topping
Melt butterscotch chips and cream as above. Stir vigorously until smooth. Spoon warm over cake slices
Cook commentary
Yield: 12 servings
Bake Time: 50-60 minutes
Serve slices of this delicious, lightly spiced caramel apple cake drizzled with extra caramel topping.
Personal notes