Recipe pictures
You're cooking one of our recipes? Share the pictures of your culinary masterpiece on our website for a chance to win an awesome apron from Recipes Quebecoises. There will be a draw every month.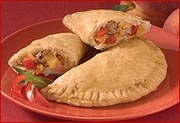 Filling
1 tbsp CRISCO® Oil (Canola or Vegetable)15 mL
1 small onion, chopped
1 small red pepper, diced
½ lb lean ground turkey 250 g
2 medium peaches or pears, peeled & diced
salt & pepper to taste
1 cup shredded Cheddar cheese 250 mL
Filling
Cook onion, red pepper and turkey in frying pan stirring occasionally for 8 minutes. Add peaches or pears, salt and pepper. Cook 5 minutes longer or until meat is no longer pink. Drain off excess liquid. Set aside to cool. Stir in cheese.
Roll out pastry on floured surface to 1/8" (3 mm) thickness. Using a plate or bowl as a guide, cut into 6" (15 cm) circles. Put 2 heaping tablespoonfuls of filling across centre of each pastry round, leaving a ½" (1 cm) border.
Beat egg yolk and water. Moisten edges of pastry with glaze. Fold pastry over to make a half moon, press edges together with tines of a fork to seal. Prick top 2 or 3 times. Brush with glaze.
Preheat oven to 400°F (200°C). Bake at 400°F (200°C) for 10 minutes, then reduce temperature to 350°F (180°C) and bake 20-25 minutes longer or until golden.
Cook commentary
Makes: 8 turnovers
Preparation Time: 35 minutes
Cooking Time: 15 minutes
Baking Time: 35 minutes
Variation: Filling - Try ground pork, beef, or lamb instead of turkey.
Pastry - Try dried basil, oregano or rosemary instead of tarragon.
Personal notes