Paleo Chocolate Mousse (paleo)
Print
Category
Paleo
Thematic
health
Source The Gourmet Confession
Evaluation
☆
☆
☆
☆
☆
Recipe pictures
You're cooking one of our recipes? Share the pictures of your culinary masterpiece on our website for a chance to win an awesome apron from Recipes Quebecoises. There will be a draw every month.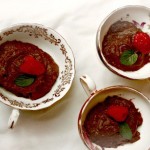 Click to enlarge
Paleo Chocolate Mousse
2 ripe medium size avocados
1/2 cup coconut milk fat (refrigerated to make it firm)
1/4 cup raw cacao powder
1 teaspoon instant coffee
1 tablespoon chia seeds
3 tablespoons maple syrup (real Canadian one!)
1 teaspoon vanilla extract
Pinch of Himalayan or sea salt
Paleo Chocolate Mousse
1.Combine all ingredients in a blender and puree until smooth.
2.Spoon the mousse into serving dishes and chill for 2 hours before serving.
Cook commentary
Serves: 6
Prep Time: 10 min
Cook Time: 2 hr
Total Time: 2 hr 10 min
For this recipe, you will need a blender and some small serving dishes.
Notes: Dust lightly with cacao powder and serve with berries or coffee beans. Adding a mint leaf is also a refreshing
The Gourmet Confession: By Johanne
http://thegourmetconfession.com/paleo-intense-chocolate-mousse

Personal notes