Recipe pictures
You're cooking one of our recipes? Share the pictures of your culinary masterpiece on our website for a chance to win an awesome apron from Recipes Quebecoises. There will be a draw every month.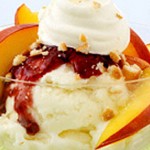 Click to enlarge
Ingrédients
1 boule de crème glacée à la vanille (1/2 tasse)
1 pêche fraîche, tranchée
1 c. à soupe de confiture de framboises Pure Kraft, chaude
1 c. à soupe de garniture fouettée Cool Whip, décongelée
1 biscuit à saveur de vanille NILLA, écrasé
Préparation
Déposer 1 boule de crème glacée dans un bol à dessert individuel.
Garnir des tranches de pêche, de la confiture, de la garniture fouettée et des miettes du biscuit.
Cook commentary
PRÉP.: 0 h 10 min
Prêt en: 0 h 10 min
DONNE: 1 portion, 1 dessert (197 g)

*Information nutritionnelle
Portion 1 portion (197 g)
QUANTITÉ PAR PORTION
calories 260
apport calorique en matières grasses 81
total des matières grasses 9g
matières grasses saturées 5g
cholestérol 30mg
sodium 70mg
total des glucides 45g
fibres alimentaires 3g
sucres 39g
protéines 4g
vitamine A 10%
vitamine C 20%
calcium 8%
fer 4%

* L'information nutritionnelle est offerte uniquement à titre de renseignement et indiquée en fonction des ingrédients et de la méthode de cuisson de chaque recette. Cette information peut varier selon le mode de préparation du mets, de l'origine et la fraîcheur des ingrédients.
Personal notes