Recipe pictures
You're cooking one of our recipes? Share the pictures of your culinary masterpiece on our website for a chance to win an awesome apron from Recipes Quebecoises. There will be a draw every month.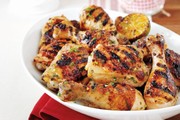 Click to enlarge
Ingredients
2 cups (500 mL) buttermilk
2 green onions, chopped
4 cloves garlic, minced
1/2 tsp (2 mL) pepper
1/4 tsp (1 mL) cinnamon
1/4 tsp (1 mL) crushed hot pepper flakes
20 small bone-in skin-on chicken pieces, (about 5-3/4 lb/2.5 kg)
1/2 tsp (2 mL) salt
1/4 cup (60 mL) maple syrup
Preparation
In large bowl, combine buttermilk, onions, garlic, pepper, cinnamon and hot pepper flakes. Add chicken, turning to coat. Cover and refrigerate for 2 hours. (Make-ahead: Refrigerate for up to 24 hours.)
Remove chicken from marinade, discarding marinade. Sprinkle with salt. Place on greased grill over medium-high heat; close lid and grill, turning occasionally, until digital rapid-read thermometer inserted into thickest part reads 165°F (74°C), about 35 minutes.
Cook commentary
Prep time45 minutes
Total time2 hours 45 minutes
Portion size10 to 12

Nutritional Information Per each of 12 servings: about
cal 113
pro 10g
total fat 5g
sat. fat 2g
carb 6g
dietary fibre 0
sugar 5g
chol 34mg
sodium 149mg
potassium 157mg
% RDI:
calcium 3
fer 2 vit A 2
folate 2
Personal notes