Tarte veloutée aux pêches
Print
Category
Peaches
Thematic No thematic
Source Kraft
Evaluation
☆
☆
☆
☆
☆
Recipe pictures
You're cooking one of our recipes? Share the pictures of your culinary masterpiece on our website for a chance to win an awesome apron from Recipes Quebecoises. There will be a draw every month.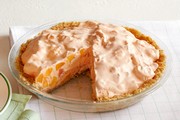 Click to enlarge
Ingrédients
48 biscuits à saveur de vanille Nilla, finement écrasés (environ 1 1/2 tasse)
1/3 tasse de margarine non hydrogénée, fondue
3/4 tasse d' eau bouillante
1 paquet (85 g) de poudre pour gelée Jell-O à l'orange
2 tasses de glaçons
1 tasse de garniture fouettée Cool Whip, décongelée
2 pêches fraîches, pelées et hachées
Préparation
Mélanger les biscuits écrasés et la margarine. Presser ce mélange dans le fond et sur la paroi d'une assiette à tarte de 9 pouces.
Ajouter l'eau bouillante à la poudre pour gelée dans un bol moyen; remuer 2 minutes ou jusqu'à ce que la poudre soit complètement dissoute. Ajouter les glaçons; remuer jusqu'à ce que la gelée ait légèrement épaissi, puis enlever ce qui reste des glaçons. Ajouter la garniture Cool Whip; remuer jusqu'à homogénéité. Incorporer délicatement les pêches.
Réfrigérer 15 minutes ou jusqu'à ce que le mélange ait suffisamment épaissi pour être ferme; étaler la préparation sur la croûte. Réfrigérer 3 heures ou jusqu'à ce que la garniture ait pris.
Cook commentary
préparation:15 min
temps requis:3 hre 30 min
Donne 8 portions de 1 morceau (125 g) chacune.

*Conseils Substitut
Utilisez 1 1/2 tasse de chapelure de graham P'tite Abeille à la place des biscuits à saveur de vanille Nilla.

*Information alimentaire
Donne 8 portions de 1 morceau (125 g) chacune.
Par portion:
Calories 250
Matières grasses 12 g
Matières grasses saturées 4 g
Cholestérol 0 mg
Sodium 220 mg
Glucides 34 g
Fibres alimentaires 1 g
Sucres 23 g
Protéines 2 g
Vitamine A 6 %VQ
Vitamine C 4 %VQ
Calcium 2 %VQ
Fer 4 %VQ
Personal notes