Grilled Steak Salad Niçoise
Print
Category
Sirloin steak
Thematic No thematic
Source Chef Eddie Blyden
Evaluation
☆
☆
☆
☆
☆
Recipe pictures
You're cooking one of our recipes? Share the pictures of your culinary masterpiece on our website for a chance to win an awesome apron from Recipes Quebecoises. There will be a draw every month.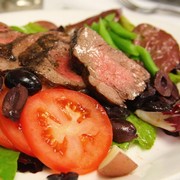 Click to enlarge
Ingredients
1 (16-ounce) top sirloin, skirt or flatiron
Salt and pepper
4 cups mixed baby lettuces
4 hard boiled eggs, chopped
2 Roma tomatoes, quartered
1 cup Nicoise or kalamata olives, pitted
8 new potatoes, quartered and steamed until tender
20 green beans, end trimmed
1/4 cup balsamic vinegar
3/4 cup olive oil
1 tablespoon Dijon mustard
1 tablespoons shallots, minced
Preparation
Start a charcoal or wood fire or preheat a gas grill or broiler, the fire should be quite hot and rack about 2 inches from the heat source.
Cook the green beans in boiling salted water for about 4 to 5 minutes. Drain green beans and submerge in ice water for 2 minutes. Drain again. Set aside.
Season steak with salt and pepper and grill for 4 to 5 minutes on each side until medium rare to medium. Leave for longer for well done meat. Rest steak on cutting board for 5 minutes. Cut the steak into 4 to 5 thin slices.
To make the vinaigrette, add vinegar to the 3/4cup of olive oil along with salt, pepper, shallot and mustard. Whisk together in a bowl until smooth or shake vigorously in a mason jar for one minute.
Arrange mixed lettuces on a platter and top with chopped hard boiled eggs, Roma tomatoes, olives, cooked new potatoes, and green beans. Arrange steak on top of the salad. Drizzle 2-3 Tablespoons of dressing over each salad.
Cook commentary
Serving: 4
Preparation: 22 minutes
Cooking: 17 minutes
Crisp lettuce, tender grilled steak, flavorful vegetables, potatoes, and eggs make this a main dish salad your family will love.
Personal notes