Recipe pictures
You're cooking one of our recipes? Share the pictures of your culinary masterpiece on our website for a chance to win an awesome apron from Recipes Quebecoises. There will be a draw every month.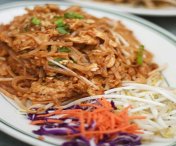 Click to enlarge
Ingredients
4 boneless, skinless chicken breast(s), sliced
1 pkg Thai rice noodles
1/4 cup (60 mL) tamarind paste
1/4 cup (60 mL) water, warm
4 oz (115 g) tofu, fried
6 tbsp (90 mL) peanuts, toasted
3 tbsp (45 mL) fish sauce
2 tbsp (30 mL) sugar
2 tbsp (30 mL) lime juice
1/2 cup (125 mL) vegetable oil
1 tsp (5 mL) garlic, minced
2 egg(s)
1 cup (250 mL) bean sprouts
2 green onion(s), cut in 1-inch matchsticks
1/2 tsp (2.5 mL) red hot chili pepper(s), roasted
red pepper(s), cut into strips
coriander, fresh
lime, cut into wedges
Preparation
Soak noodles in plenty of cold water for at least 1 hour.
Combine tamarind paste with ¼ cup (60 mL) warm water in a small bowl and let soak for at least 15 minutes.
Slice the chicken into ¼ inch strips. Reserve.
Slice the fried tofu into ¾ inch cubes. Reserve.
Blend or process peanuts into coarse meal. Reserve.
Return to your reserved tamarind paste in its water. Mash it and transfer the mud-like mixture to a strainer set into a bowl. Mash and push with a spoon, forcing liquid to strain into the bowl. Scrape off the juice that clings to the underside of the strainer. You will have about 5 Tbsp (75 mL) of tamarind juice. Add to it the fish sauce, sugar and lime juice. Beat to thoroughly mix and reserve. Discard the solids left in the strainer.
Heat oil in a wok (or large frying pan) until it is just about to smoke. Add garlic and stir, letting it cook for about 30 seconds. Add chicken and stir-fry for 1 minute. Add tofu and stir-fry for 1 more minute. Break eggs into wok and let them fry without breaking them up for 1-2 minutes.
While eggs cook, drain the noodles and then add to wok, giving them a quick fold, stir-frying for 1 minute from the bottom up. Add reserved tamarind juice, etc. (from step #6) and continue stir-frying, mixing everything together for 1-2 minutes. Your noodles will have subsided to half their original volume and softened up to al dente.
Add about 2/3 of the reserved ground peanuts and stir. Add about 2/3 of the bean sprouts and all the green onion pieces. Stir-fry for 30 seconds and take off heat.
Transfer noodles to a serving dish and sprinkle with roasted chillies. Top with the rest of the ground peanuts, the rest of the sprouts, some strips of red pepper and fresh coriander leaves. Stick a couple of lime wedges on the side and serve immediately.
Cook commentary
Serves: 4
Prep Time: 60 mins
Cook Time: 30 mins

*Nutrition Info
Richard Patten's Chicken Pad Thai
Per 470 g serving
Amount
Calories 790
Protein 74 g
Fat 46 g
Saturated Fat 6 g
Carbohydrate 21 g
Fibre 3 g
Sugar 12 g
Cholesterol 235 mg
Sodium 1230 mg
Per 470 g serving
% Daily Value
Potassium 32
Calcium 35
Iron 20
Vitamin A 15
Vitamin C 70
Vitamin B6 95
Vitamin B12 67
Folate 33
Magnesium 68
Zinc 40
Personal notes