Grapefruit pork roast
Print
Category
Roast
Thematic No thematic
Source No source
Evaluation
☆
☆
☆
☆
☆
Recipe pictures
You're cooking one of our recipes? Share the pictures of your culinary masterpiece on our website for a chance to win an awesome apron from Recipes Quebecoises. There will be a draw every month.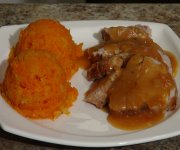 Click to enlarge
Ingredients
1 pork roast from 2 to 3 lbs, in the loin
2 cloves of garlic, chopped in two
2 tablespoons of butter
1 teaspoon of mustard powder
1 teaspoon of dried marjoram leaf
1 teaspoon of salt
1 large onion, sliced into rings
1 cup of grapefruit juice
3 tablespoons of brown sugar
Sauce
1/2 cup of cold water
2 tablespoons of flour
1/2 teaspoon of salt
1 pinch of pepper
1 cup of boiling water
1 pinch of marjoram
Preparation
Preheat oven to 325 F. Place the roast in a roasting pan. Make 4 incisions and insert garlic. Brush the meat with butter and mustard mixed. Put marjoram over roast.
Place roast on onion rings in ovenproof pan, add the cup of grapefruit juice, brown sugar, salt and Pepper. Bake 1 hour.
Check the liquid and add water if necessary basting often and continue cooking for 1 additional hour. Place roast in a warm serving dish. Book.
Sauce
Put the pan directly on the heat of the stove and cook the juice to deglaze. Mix 1/2 cup of cold water, flour and add to the boiling sauce, stirring constantly.
Add 1/2 teaspoon of salt, pinches of pepper and marjoram. Add hot water if necessary. Adjust the seasoning if necessary and serve with roast with mashed carrots and swede.
Cook commentary
Photo: Recipes Québécoises.com
Personal notes