Recipe pictures
You're cooking one of our recipes? Share the pictures of your culinary masterpiece on our website for a chance to win an awesome apron from Recipes Quebecoises. There will be a draw every month.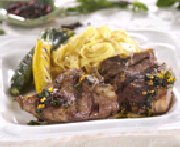 marinade
1 cup (250 mL) orange juice*
6 Tbsp. (90 mL) olive oil*
2 Tbsp. (30 mL) chopped fresh parsley
2 garlic cloves, chopped
Freshly ground pepper to taste
8 lamb chops
1/4 cup (60 mL) minced fresh mint
4 tsp. (20 mL) chopped orange peel
1 Tbsp. (15 mL) honey*
1 garlic clove, minced
Salt and freshly ground pepper to taste
1 Tbsp. (15 mL) olive oil*
marinade
In a shallow dish, mix orange juice, 3 Tbsp. (45 mL) oil, parsley, garlic and pepper. Add chops and refrigerate for 60-90 min.
In a bowl, mix mint, 2 Tbsp. (30 mL) oil, orange peel, honey, minced garlic, salt and pepper. Set aside. In a skillet, heat remaining oil and brown chops 1 min. per side.
Preheat oven to 400ºF/200ºC. Put chops in a casserole and roast about 8-10 min. to desired degree of doneness. Sprinkle with mint-orange peel mixture before serving. Serve with egg noodles and grilled green and yellow zucchini.
Cook commentary
4 Servings
Suggestion
Replace mint with fresh basil or parsley and orange peel with lemon peel.
Personal notes