Cream and thyme oysters with parmesan gratin
Print
Category
Oysters
Thematic No thematic
Source IGA
Evaluation
☆
☆
☆
☆
☆
Recipe pictures
You're cooking one of our recipes? Share the pictures of your culinary masterpiece on our website for a chance to win an awesome apron from Recipes Quebecoises. There will be a draw every month.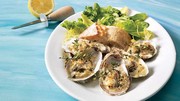 Click to enlarge
Ingredients
24 whole oysters
coarse salt
15 mL (1 tbsp.) Compliments olive oil
125 mL (1/2 cup) finely chopped French shallots
250 mL (1 cup) white wine
zest of one lemon
45 mL (3 tbsp.) fi nely chopped fresh thyme
125 mL (1/2 cup) country-style 15% M.F. cream
125 mL (1/2 cup) grated Parmesan cheese
Preparation
Preheat oven broiler. Brush oysters under cold running water. Using a solid knife, open the oysters; remove shell shards and juice. Discard top shells. Slide knife blade under oysters to loosen from bottom shells. Cover the bottom of a large ovenproof dish with coarse salt. Nestle oysters in the salt so that they remain upright. Set aside. In a small saucepan, heat olive oil over medium-high heat. Sauté shallot for about 2 minutes. Pour in white wine and bring to boil.
Cook for about 15 minutes, or until wine is reduced by half. Add lemon zest, thyme and cream. Continue cooking for about 5 minutes, or until sauce thickens. Spoon 15 mL (1 tbsp.) sauce over each oyster and sprinkle with Parmesan. Broil oysters for about 3 minutes, or until cheese is just barely golden. Decorate each oyster with a small sprig of thyme and serve with crusty bread and a green salad.
Cook commentary
Serves : 4 to 6 servings
Variation:Replace lemon zest by lime zest and thyme by coriander
Personal notes